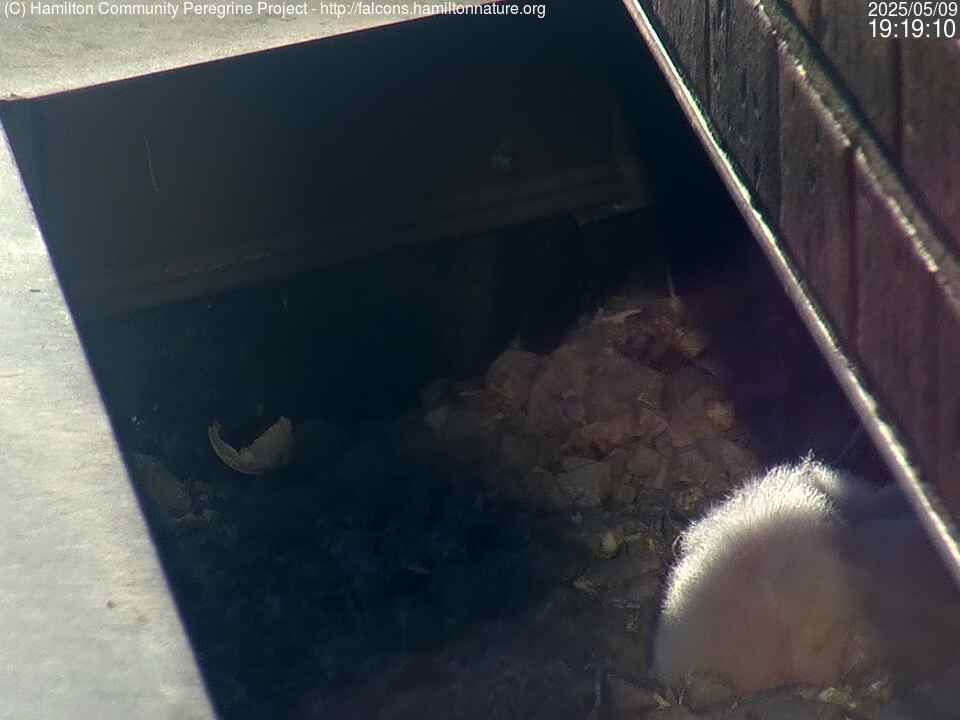 Web page created and maintained by Charles Gregory
Web page created and maintained by Charles Gregory
Hamilton Falconwatch News
Click an image to view full size in a new window.
SAD NEWS.... AND SOME COMFORT
Sunday, January 23, 2022 - We regret to announce that downtown Hamilton's resident female peregrine falcon, Lily, passed away this evening. It would seem that her dehydration and frostbite were more severe than they first appeared. This together with the injuries she sustained from some kind of collision were too much for her aging body. At 6:30 she passed away, despite the best efforts of the Open Sky Raptor Foundation and the Owl Foundation (to whom we are extremely grateful).
But there is some comforting news to help offset this sadness.... This afternoon we captured the photo at left, of two adult peregrines on the Sheraton Hamilton nest ledge! We don't know if this implies that some of Lily's injuries were from a territorial battle, or if this new bird is just seizing the obvious opportunity to move in on a nesting territory with only one adult present. Judson appeared a little bit upset, but did not try to drive off the newcomer. So, despite the sadness, it looks like we will not have to worry about having a female for the coming nesting season. We will keep a close watch in the coming days, to see if we can identify the new bird.
A NEW YEAR BEGINS WITH CONCERNING NEWS
Sunday, January 23, 2022 - As our brave peregrines deal with winter snow (picture at left), we received a report that Lily has been rescued from a location on the ground near the corner of Bay St and York Blvd, on the north-west corner of the downtown block that she and Judson call home.
She does not appear seriously injured. No fractured bones. But her weight is down - possibly a sign of her dealing with hypothermia in the dreadful cold of this past week. It was also noted that one of her wings seemed slightly stiff, perhaps evidence of a collision with a building or possibly even a vehicle. We will post updated information as we get it.
BACKGROUND FOR 2022....
This is the seventh anniversary of the arrival of Lily at the Hamilton nest. Strictly speaking, this will be Judson's first year to produce chicks, given the fact that he arrived at the nest while Lily was brooding the (failed) eggs last year.
Lily was banded in 2010 at the Grand Haven Board of Light & Power plant, in Michigan. Judson fledged in 2018 from the Richardson Complex in Buffalo, New York. In a delightful turn of events, one of his parents is Felker who fledged from Hamilton in 2012! So the prodigal (grand)son of Madame X and Surge returns!
Lily last hatched a pair of chicks in 2020, with Ossie. The pair produced several eggs in 2021, but none hatched. Judson arrived just about the time that they should have hatched. A third falcon was seen nearby for several weeks after Judson appeared. We couldn't see its bands, but we're guessing that Ossie lost a territorial battle, but wasn't quite ready to give up on Lily. The other possibility is that another female was accompanyinng Judson, and had hopes to displace Lily. But a momma on her eggs was not something any intruder would want to face. Either way, the extra bird departed a few weeks later.
With the Covid-19 pandemic stretching into its third year, we will still need to be mindful of possible provincial regulations regarding public contact, but our expectation is that we will be able to operate an on-street watch this coming year. So in the coming months we will be seeking volunteers for the Watch. As always, your kind financial assistance makes all the difference, as this pays for our coordinators, who lead the effort to keep our chicks safe.
Many bird species exhibit a trait called 'site fidelity'. If at least one of a pair that used a nest site in the previous year returns, and if there have been no significant physical changes to disturb either the nest itself or the birds generally, they will use the same nest site year after year. Peregrine Falcons are known for site fidelity. This will be the twenty-eighth year the same nest site on the Sheraton Hamilton Hotel has been used.
To read FalconWatch Reports from previous years, click on the History button above.
Thank you to all our visitors and supporters for your ongoing encouragement.
DONATIONS WELCOME - If you have not already made a donation to Falconwatch, it is never too late to do so. The Coordinators' daily reports, the camera images, on-street Falconwatch equipment and display window electronics are all made possible by YOUR contributions. Falconwatch does not cost a lot, but grants do not cover all our expenses, and there are bills to be paid. Please click on the yellow 'DONATE button above to learn more about how the money is used and how to make a tax creditable donation by cheque or on-line. We and the birds Thank You!
179701
visitors since
2021/03/02
Web page created by Charles Gregory
Web Pages and All Contents (C) Copyright - Hamilton Community Peregrine Project