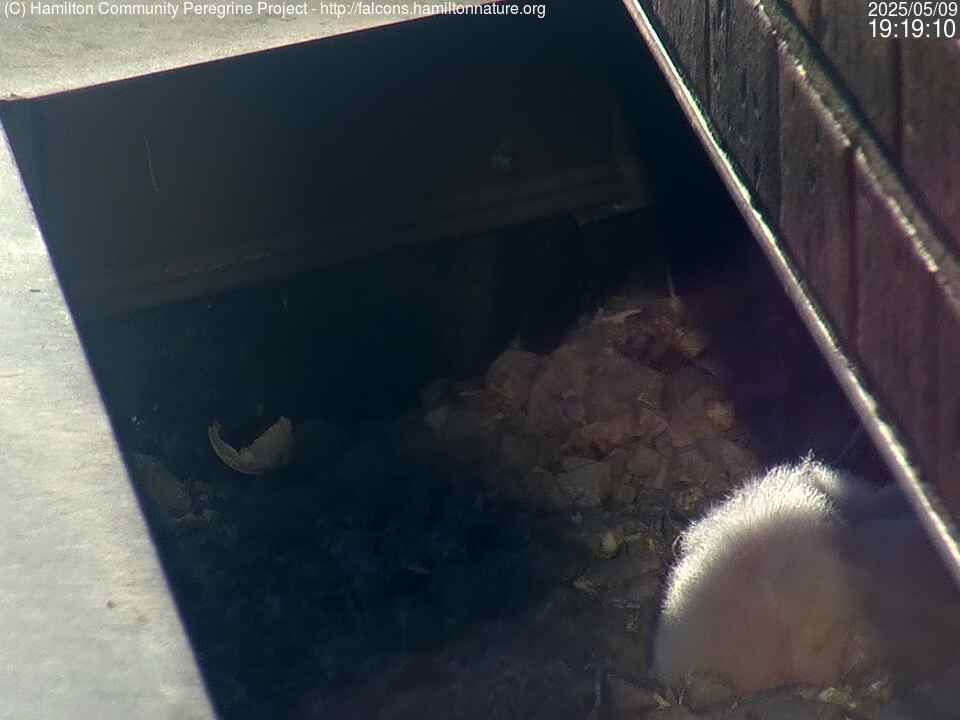 Web page created and maintained by Charles Gregory


Hamilton Falconwatch News



Click an image to view full size in a new window.
Make a Donation to help Falconwatch!



Hover mouse over image to pause.
Click here to view Slide Show full size

FALCONWATCH 2016 HAS ENDED. Ancaster has caught her first meal and is spending more time away from the downtown area. We thank our two Coordinators, Hilary Rathbone and Corin Schneider, and all our Volunteers for their help this season, and look forward to working with them again next year.

DONATIONS ARE WELCOME If you have not already made a donation to Falconwatch, it is never too late to do so. The Coordinators' daily reports, the camera images, on-street Falconwatch equipment and display window electronics are all made possible by YOUR contributions. Falconwatch does not cost a lot, but grants do not cover all our expenses, and there are still bills to be paid. Please click on the yellow 'DONATE button above to learn more about what the money is used for and how to make a tax creditable donation by cheque or on-line. We and the birds Thank You!

Because the Peregrines often return to the nest ledge we will keep the cameras on to catch this activity when it occurs.
FIRST CATCH!!!

Sunday June 26, 2016 - Falconwatch coordinator Corin Schneider reports: A lovely sunny day started with Ancaster by herself on BDC. At 11:05 she headed north to Stelco, then flew with Lily to Standard Life and stayed there for an hour before returning to BDC, where Ossie greeted them. At 14:55 Ancaster flew around Fairclough to the Sheraton then back to BDC. An interesting interaction happened when she went to land beside Lily. Lily left as soon as she arrived, so Ancaster decided to continue flying with her. They flew west around Fairclough together, then Ancaster returned to BDC while Lily went to the Sheraton nest. Ancaster chose to go there from BDC at 18:08, allowing us to capture this image. She seems to always go where Lily was last, always taking her spot! Literally following Lily's wing beats! One of her most spectacular flights came at 19:05. Ancaster took off from Sheraton, heading south circling McMaster. She was hunting! Though unsuccessful this time, her technique of swooping down is almost perfect. She and Ossie flew together for a bit, then Ancaster returned to BDC. The excitement was just beginning as only an hour later Ancaster took off from BDC, flew around Fairclough and managed to make her first catch, a pigeon! She brought her prize to the Sheraton, to feast in joy on the "a" of the Sheraton sign. Wow! It is amazing that Ancaster hit this milestone so quickly. She is well on her way

Thanks to all the Volunteers, the Senior Monitors and the Peregrines. It was a pleasure to be a part of Falconwatch and to see Ancaster grow.

HOURS OF BOREDOM, MOMENTS OF FLIGHT!!!

Saturday, June 25, 2016 - Deborah Grant, Mike Street and Andy Harvey reporting for Corin Schnieder: Do Peregrines take weekends off? While Deborah and Mike were watching from 0900-1700 Ancaster took just two short hops, from one side of the BDC building to the other. Boring!!! Things changed when Andy came on at 1700, however. At 17:24 all three birds were in the air, circling the Fairclough building. Twenty minutes later Ancaster and one adult flew out of sight to the east, probably on a training flight. At 18:26 they returned and circled very high over the entire Sheraton region, riding thermals and gliding. Ancaster then dove toward the Federal building on Bay Street, missing a meal by two feet!!! Things slowed down after this. Ancaster flew to the south side of the Stelco roof. An adult circled the tower many times, calling, but Ancaster didn't budge. At 19:05 she flew to Fairclough and moved up and down on the roof. At dusk she was still there, but out of sight. We'll see what tomorrow brings!

A QUIET DAY

Friday June 24, 2016 - Falconwatch coordinator Corin Schneider reports: After a busy week Ancaster spent most of her Friday resting. Today started out as a travel back in time as she was on the nest ledge when I arrived at 09:00 and didn't leave until taking off to BDC after 11:30. In that interval she stood watching the city, stretching as seen in the picture, or snoozing in the pancake position. Ossie and Lily both flew from Stelco to the nest at 13:09 and proceeded to do what we call "housekeeping" inside the ledge. The adults seem to already be preparing for next year, an activity we see every year after the chick(s) have fledged.

Ancaster stayed quietly on BDC until she decided to stretch her wings at 13:40. She flew past Stelco and around Fairclough before returning to BDC. When Ancaster first started to fly – was it only nine days ago? - she flapped her wings quickly, but now she flaps much less often and much more gracefully. Ossie seemed to admire Ancaster's strong flight and joined her on BDC moments later. Ossie soon left and Ancaster spent the rest of the day by herself on BDC.

Even though Ancaster's parents were not close by, it doesn't mean they weren't protecting her. Around 19:00 a Turkey Vulture approached the nest and was fearlessly chased away by Ossie. The poor vulture was annoyed for a while as it couldn't outfly the fastest bird in the world!

ANCASTER VISITS THE NEST

Thursday June 23, 2016 - Falconwatch coordinator Corin Schneider reports: The day started out with the family in different locations on the Stelco building. Around 10:10 Ancaster flew from Stelco to the Sheraton nest ledge, where she was joined by Lily and had a quick bite. While this was happening Ossie was flying back and forth in front of the ledge. We were able to get some terrific close up pictures. Once again, Hanny, a member of our Facebook group, captured video and posted it to YouTube.


https://www.youtube.com/watch?v=xMAtiFgdr5E

Not too long after Lily and Ancaster flew to BDC for a rest, while Ossie landed on a Sheraton ledge. Later in the afternoon the adults spent time on other buildings separate from Ancaster, suggesting she's becoming much more independent. Ancaster took occasional small flights from BDC until 19:14 when Ossie caught a pigeon and took it to the Sheraton. He plucked the pigeon so fast, you'd think it was a contest. With her great sight Ancaster immediately took off to join Ossie for a delicious meal. After the meal, Ancaster flew far west past Homewood Suites and out of sight. She now doesn't seem to fear long solo trips!

FLYING IN FORMATION!

Wednesday, June 22, 2016 - Falconwatch coordinator Corin Schneider reports: Today was much a father-son day which began with Ancaster lying peacefully on Stelco with Ossie. When I checked Stelco later, Ancaster was gone. At 11:40, with Ossie and Lily both on BDC, I searched and searched the streets of Hamilton for Ancaster. She finally turned up at 13:50, right in front of us! Ancaster had been tucked in ever so sneakily on the north BDC logo, only revealing herself when she lifted her tail. Lily circled around BDC a few times at 14:40 trying to encourage Ancaster to fly. A few minutes later Ossie and Ancaster were impressive as they flew, synchronized together, heading east for two minutes before returning to BDC. They were so perfectly in tune with each other it was amazing! Ancaster is truly learning to be a Peregrine. Later she went on a few solo flights, the most spectacular started at 19:04 when she travelled around Fairclough, then to Sheraton, and back and forth to BDC a couple times before settling on a Sheraton ledge at 19:10, letting us get this picture.

Lily's and Ossie's long flight trips with Ancaster are paying off as the youngster Ancaster is making longer flights on her own. At 20:25 Ancaster and Ossie flew together from Stelco and right in front of me both swooped down toward the ground in perfect aerobatic formation! Ancaster continued to fly with both Ossie and Lily, circling BDC and Fairclough, right until dusk. During the day Lily often joined Ancaster and Ossie on BDC, but also spent a lot of time on the Sheraton nest ledge, possibly reminiscing about the "good old days" a couple of weeks ago when Ancaster was a chick. I'm sure she's pleased to see how far Ancaster has come.

FLYING FAMILY!

Tuesday, June 21, 2016 - Falconwatch coordinator Corin Schneider reports: Ancaster has taken her first family trip! The day started out quietly with all three Peregrines relaxing on the BDC building. The excitement began at 11:05 when Ancaster took off, flew around Fairclough and then to Stelco, where she was greeted by Ossie. The pair flew together back to BDC, where Ossie landed but Ancaster continued, flying around BDC then all the way over to the Sheraton, where she perched on the ledge next to the nest at 11:16 and allowed us to capture this picture. Seconds later Lily joined Ancaster, flying into the nest ledge. At noon Ancaster travelled back to BDC, landing on the northwest window ledge and displacing Lily, who took off immediately as if Ancaster was pulling a Sheldon Cooper and had demanded Lily's spot to herself! The family trip began at 12:48 when Ancaster left BDC with both adults. As they soared westward through the skies together it was almost impossible to tell Ancaster apart from her parents. All three kept going past Homewood Suites and out of sight from where I was. It wasn't until 14:10 when the whole family was back in view on what has become their usual hangout, the north BDC sign. Talk about an adventure! During the rest of the afternoon Ancaster made many round trips from BDC, often as long as five minutes just circling BDC and Fairclough. She flew to Stelco from BDC at 19:02, then an hour later returned to BDC, joining Ossie to watch the sun set. Today Ancaster resembled a high school student taking a trip with her parents before she becomes more independent and goes off to University. It will be interesting to see how long it takes until she becomes a responsible adult!

ANCASTER TRIES HUNTING!

Monday, June 20, 2016 - Falconwatch coordinator Corin Schneider reports: Ancaster is flying more and more as she continues to get comfortable with her wings. The morning started bright and early at 05:38 when Ancaster chased Lily from BDC to the Sheraton and over the McMaster Health Centre before taking possession of a grand meal. An hour later she flew to Fairclough, then back to BDC, where the whole family definitely feel at home! Even before Ancaster was able to fly, it was Ossie's and Lily's favourite roosting location. All three stayed there until Ancaster became active around 14:30. A little later, between 16:17 and 16:39, she took off and returned to BDC four times! On a couple of these efforts Ancaster took off, swooped down rapidly and attempted to catch a meal. She was unsuccessful, but just her trying to hunt is a huge stepping stone! Once successful in doing this, she'll no longer need her parents' care. The excitement wasn't over. At 18:57 she took an extremely long flight that lasted almost five-minutes, travelling smoothly back and forth over the downtown area. It was so beautiful to watch. The hot weather changed dramatically when thunder and rain arrived at 19:30. Overall it was an exciting day, with Ancaster starting to learn a new skill!

IT'S JUST TOO HOT!

Sunday, June 19, 2016 - Falconwatch Coordinator Hilary Rathbone reports: It was a very warm Sunday, possibly the hottest day so far this year! It started off with some concern as we were unable to find any of the birds between 05:00 - 07:45. It turns out Ancaster had been right over our heads the whole time - perched on the north east corner of McMaster's David Braley Health Sciences Centre! Around 11:00 she flew back to the west side of the BDC Building, where her parents promptly joined her. All three birds napped until just before 15:00, when Ancaster flew south, out of sight! Only when both adults flew back to the front of BDC did we begin to think that Ancaster may have sneakily landed on the east side of BDC. Sure enough, she was right where she'd flown yesterday after leaving 20 Hughson. Once again the Peregrines roosted quietly until 18:00, when all three birds left BDC together. An adult and Ancaster were seen talon touching as they flew circles around BDC, the Stelco Tower and the Piggott Building. It was pretty exciting to see!

LILY "GETS RELIGION" AND WE FIND ANCASTER

Saturday, June 18, 2016 - Falconwatch Coordinators Corin Schneider and Hilary Rathbone report: Today was both exciting and semi-stressful. Ancaster was "out of sight" this morning until 11:30 when a Volunteer searching for her heard Lily calling loudly from the spire of St. Paul's Presbyterian Church at James and Jackson Streets. Looking in the same direction as Lily, he spotted Ancaster on the west side of the main roof of the former Union Gas Building at 20 Hughson Street South, with cooling system maintenance workers working just above her!!! No wonder Lily was yelling. Luckily there were no incidents involving the protective mother and the workers, and all was well at lunch hour. Ancaster stayed in this location – at only 10 stories above the ground, the lowest level she had ever been in her short life - until 14:03, when she flew up and west, landed briefly on the very top of the Art Deco/Gothic Revival Pigott Building, then flew even higher to the east side of the main BDC Building roof. Father Ossie flew in and perched below Ancaster on the red BDC logo.

After a good rest Ancaster flew sporadically until 17:00, when she planted herself on the superstructure at the top of the Stelco tower. Around 17:40 she and both adults seemed to do laps around the centre of downtown Hamilton. After this scenic tour Ancaster went back to the top of Stelco. She seems to be almost unstoppable with her flight patterns, and we have no doubt that with a little more education by her parents she will soon be hunting for her own food and exploring the rest of Hamilton before heading south in the fall.

Because our camera can't see Ancaster at the moment, here is another photo of Lily taken on Banding Day, May 25, by Ryan Laird Iverson.

FREQUENT FLYER!

Friday, June 17, 2016 - Falconwatch Coordinators Corin Schneider and Hilary Rathbone report: Ancaster had quite an eventful day. Her many trips around downtown Hamilton, including a stop on top of the BDC building over at Main and McNab, caused one Volunteer to ask if Falconwatch was going to get her frequent flyer points! She also took a few naps out of sight of the Volunteers, causing some concern until she reappeared. Ancaster's flights are very strong, but she still has a way to go to be considered fledged. We're now looking for her to take longer training trips, accompanied by one or both adults.

Because our camera can't see Ancaster at the moment, here is a photo of Lily on Banding Day, May 25, taken by Ryan Laird Iverson, Falconwatch's main contact at the Sheraton Hamilton Hotel. Lily and Ossie have proven to be great parents.

WHAT A VIEW!

Thursday, June 16, 2016 - Falconwatch Coordinator Hilary Rathbone reports: And she's off! Since her first flight yesterday morning, Ancaster has enjoyed many trips around the downtown core of Hamilton. Similar to university students moving away from home for the first time, Ancaster seems to be loving life out of the nest! For almost the whole day today, she has been on the very top of the Stelco tower taking in those great city views. Her parents have joined her on the roof top multiple times throughout the day, dropping off food and just generally checking in with the chick. Our Volunteers reported that Ancaster likes to walk – she made at least one complete trip around the edge of the main Stelco roof. During the afternoon, Ancaster took many flights that involved touching talons with both Ossie and Lily. This was quite the exciting sight to see! Life in downtown has changed significantly, and I can't wait to see what tomorrow brings!

Because our camera can't see the top of Stelco, here are a couple of Corin's pictures from yesterday when Ancaster was on the Fairclough building. CBC Hamilton, CHCH TV and the Hamilton Spectator all gave Ancaster's first flight nice coverage. See their websites for the stories and video.

WHAT A DAY!

Wednesday, June 16, 2016 - Falconwatch coordinator Corin Schneider reports: The wait is over! Ancaster took her first flight today! After an early feeding at 05:39 she continuously exercised her wings, preparing for the big moment, often right on the edge of the ledge. At 09:31 she took off and flew for the first time, bringing happy yells from one of the volunteers and yours truly!

Ancaster flew gracefully and landed on the Stelco building, staying for ten minutes, then took off and made two complete circuits around the Fairclough building before landing on its north-west corner. I was amazed by how smoothly Ancaster could fly. If you didn't know, it would have been almost impossible to tell it was her first flight. I'm sure she was thrilled by her success as she immediately jumped, flapped and walked along the Fairclough roof edge and railings, allowing me to take these pictures. Lily and Ossie seemed exhilarated too as they flew around Fairclough several times throughout the day. When Ancaster flew again at 10:52 Lily and Ossie joined her in seconds and escorted her to a very smooth landing on the west Fairclough roof.

At 13:55 Lily dropped off a pigeon and Ancaster plucked and ate it by herself. Afterwards, she "pancaked" on the corner for a welcome rest. There were two more feedings later in the day - I suppose food was her prize after her impressive first flight success. Ancaster stayed on the north-west corner of Fairclough for the remainder of the day, perhaps reflecting on her accomplishments and enjoying the new view!

ANCASTER IS AIRBORNE!

Wednesday, June 15, 2016 - At 9:30 this morning, Ancaster took her first flights. She first flew over to the old Stelco building, to the east of the Sheraton, then took off again, circled the Fairclough building across the street (a very strong second flight!) and then landed on the edge of its roof. She spent about an hour or so walking and flapping back and forth along the north and west sides of that building (photo at left), then settled down near the south east corner..... It's going to be an interesting day! :)

One of the members of our Facebook group recorded the streaming video of Ancaster taking flight, and has posted it to youtube. Check this out! https://www.youtube.com/watch?v=_14G0UkO11Q

WAITING, WAITING

Tuesday June 14, 2016 - Hamilton Falconwatch coordinator Corin Schneider reports: Today Ancaster continued to flap her wings, alternating vigorous sessions with naps. Ossie fed the chick twice before 07:30. At 16:38 (image) Ancaster kept me on the edge of my seat as she started to helicopter, jumping around on the very edge of the ledge while flapping very hard. She did this again at 19:40, then two minutes later she was fed a pigeon by Lily. Another minute later Ossie dropped off more food. Apparently the adults think she will need a lot of fuel to test her wings more!

Today was much a daughter-mother day as Lily spent a lot of time in the nest ledge with Ancaster, especially at noon and again later in the afternoon. It seems pretty clear that Lily wants to be close by when Ancaster takes off on her first flight. Several times during the day the youngster lay flat, AKA "pancaked", on the ledge. This picture was taken at 10:04. Ancaster seems to be saving up her energy as she looks to fly another day. We'll see what's in store for the future as she builds up the suspense!

ANY MINUTE NOW!!!

Monday June 13, 2016 - Hamilton Falconwatch coordinator Corin Schneider reports: The time is near! Ancaster will without a doubt be flying soon! The action started early in the morning when she began to flap around 05:10, and did this often throughout the morning. There was a moment at 10:45 where she helicoptered and flapped her wings at a surprisingly quick rate for a total of 30 seconds, longer and faster than I've ever seen her do this before!

Lily spent a lot of time with Ancaster, especially at noon and again in the afternoon. When Lily was not with Ancaster she was almost always perched on the Homewood Suites building. Ossie visited from time to time as well, but spent most of his time at the BDC building. Sometimes both Lily and Ossie would hang out together on the Stelco and the Homewood Suites buildings, using their sharp eyes to watch over Ancaster as she could fly at anytime.

At 14:00 Ancaster started to pick up her exercising pace, jumping around the ledge while rigorously flapping her wings, showing her eagerness to fly. At times she would even jump a foot in the air while flapping! She flapped almost continuously for an entire hour before being fed a mouse at 15:00. After the meal Ancaster seemed more relaxed as she was no longer squawking or testing her wings. Around 16:46 when this picture was taken, Ancaster was at it again. She seemed to be showing off to Lily, who sat on the ledge beside her. After an exhausting day of mad flapping, Ancaster lay quietly on the ledge as the sun set. Will tomorrow be the day of her first flight? We shall see!

ANOTHER QUIET DAY

Sunday June 12, 2016 - Falconwatch coordinator Hilary Rathbone reports: Ancaster had a nice, slow, relaxing Sunday. While she flapped her wings and hopped about on the ledge more often this morning compared to yesterday, she slept pretty much for the remainder of the day. One thing that was different was that Lily spent almost the whole day in and on the nest ledge with her chick. This image shows the two of them at 14:32. A little later an adult brought a nice juicy rodent for Ancaster to snack on, after which she promptly fell asleep for a couple of hours. For the rest of the day she would occasionally wake up and flap her wings. Ancaster may still be wiped out from yesterday's humidity, but hopefully tomorrow or Tuesday she will take her first flight!

FEEDING HERSELF!!!

Saturday June 11, 2016 - Falconwatch coordinator Hilary Rathbone reports: C'mon Ancaster! As might be expected on this very hot and humid day, Ancaster was mostly inactive, spending 90% of it napping in the nest. She only hopped onto the ledge and flapped her wings a few times. There were, however, a few exciting moments. After Lily brought food to the ledge and started to prepare it at 06:22, Ancaster took the meal to the other end and proceeded to eat it all by herself with no help from Mom. This is the first time the camera has caught this important step in Ancaster's development. Around 13:00 she pancaked herself on the ledge, leaving us onlookers on the edge of our seats, but eventually hopped back into the nest with no flight taken. At 18:30 Lily decided to take matters into her own hands (talons?) and tried to encourage Ancaster to take to the air, but to no avail. I'll blame the chick's tentativeness on today's extreme humidity, but feel it won't be long before her first flight!

WHAT A DIFFERENCE A WEEK MAKES!!!

Friday June 10, 2016 - Falconwatch coordinator Hilary Rathbone reports: Oh how Ancaster has changed! It's been close to a week since I was last on watch, and she is significantly different! She is looking more and more like her parents, but still has quite a few golden feathers on her chest, creating quite a distinctive look in the right light. I feel as though in the next couple of days she will be out and about flying around. Periodically she has been out on the ledge flapping and hopping around. Many times today she looked as if she may even take off, as in this picture taken at 15:00 with Lily looking on! Ancaster was not fed nearly as much today as she was a week ago; her parents are starting to make her work for her food, which also keeps her weight down. Hopefully by the end of this weekend she will be off on her first flight. Exciting things are coming for Ancaster!

LOOKING LIKE AN ADULT

Thursday June 9, 2016 - Falconwatch coordinator Corin Schneider reports: The weather was just perfect this beautiful Thursday. Ancaster enjoyed finally not having a day with strong winds or rain or clouds filling the sky and spent a lot of time on the ledge, much of it flapping her wings. Something different about Ancaster is her appearance. When I first arrived today I mistook her for one of her parents since almost all of her white feathers have been shed. If the lighting doesn't show colours well, she now looks almost identical to an adult.

Except between noon and 1300 the adults did not visit often. They are spending a lot of their time perched on the ledges of the Homewood Suites and BDC buildings where they have an excellent view of the nest. Ancaster was fed bright and early at around 05:47 and received a large meal from Lily at 12:00. After this feeding she spent almost ten minutes flapping vigorously, sometimes right on the edge of the ledge as can be seen in the accompanying pictures. As the sun goes down and another day ends the chick is on the ledge while her parents are perched on the Standard Living building. Ancaster should be ready for her first flight in the nest few days, so stay tuned!

FOOD! LOTS OF FOOD!

Wednesday June 8, 2016 - Falconwatch coordinator Corin Schneider reports: The middle of Ancaster's week started out quietly with her resting in the nest most of the morning. Later she spent a lot of time on the ledge, often testing her wings as in this 11:00 image. For most of the day one of the adults kept her company, either on the nest ledge or one of the adjacent ones.

Lily and Ossie would both often leave briefly to enjoy riding the strong winds or go hunting. On a few occasions a volunteer and I saw one of the parents swoop down but miss the targeted prey. According to David Attenborough the Peregrine Falcon, despite being the fastest bird in the world, has only a 20% successful strike rate. With only one out of five of their attacks resulting in food being captured, the Peregrine has to be persistent. The picture at left was taken during the first feeding at 07:22 today. At 14:25 one of the adults brought in food and gave Ancaster a five minute demonstration on how to prepare it, starting with feather plucking. On this occasion the adult left the ledge without giving the chick any food, but a meal arrived at 15:35. Ancaster surprisingly still had room and was fed twice again before dusk. As Ancaster grows it seems her appetite has as well. She has also shed almost all her white down feathers.

After the last feed Ancaster's parents both perched on one of the high ledges of the Homewood Suites building, one of the first uses of this new roosting location. The adults depend on high perches to be able to keep an eye out for possible predators approaching the nest and to give prey the ultimate surprise from above. The on-street Falconwatch started today and will continue until Ancaster is flying on her own and learns to hunt.

A FAMILY DAY

Tuesday June 7, 2016 - Falconwatch coordinator Corin Schneider reports: Today was cool and cloudy, and Ancaster is one day closer to her first flight! She spent a lot of time on the ledge looking down at the city, and was visited multiple times by both her parents for long periods. There was even one occasion where it rained and she perched fearlessly on the ledge. It seems she has adapted and is able to handle the rain after the storm yesterday!

Ancaster also seems to be getting tremendously comfortable with her wings as she flapped and helicoptered often, especially at noon and in the evening as well. One of the adults caught a pigeon and brought it to Ancaster around 16:15 (photo). After landing the adult set the pigeon on one of the ledges near the nest and plucked its feathers. It looked as if a pillow exploded! Only five minutes later, the parent started to feed the chick. It doesn't take long for them to prepare meals! Ancaster's final meal for the day was delivered at 18:50.

The on-street Falconwatch starts tomorrow, Wednesday, June 8.

HELICOPTERING!

Monday, June 6, 2016 - Falconwatch Coordinator Corin Schneider reports: T'was another day in the life of our Peregrine chick. Ancaster was very active in the morning and afternoon as she often hopped onto the ledge and walked around the nest. She helicoptered several times, stretching her wings with the goal of soon being able to fly. In the picture, taken at 16:22, she has just touched down from one of these exercises. Not long before this she had been gifted with a large meal from one of her parents; it took them both 15 minutes to finish! Talk about an appetite. Towards the evening it started to rain so Ancaster and one of the adults crowded into the nest.

TESTING HER WINGS!

Sunday, June 5, 2016 - Falconwatch Coordinator Corin Schneider reports: Observing a day in the life of a Peregrine chick was truly a wonderful experience! Ancaster spent a lot of time resting, but also every once in a while jumped up and wandered around the nest ledge. When it poured rain around 14:30 Ancaster tucked herself into the scrape and one of the adults came over to check on her. On several occasions I witnessed Ancaster flapping her wings, and once she performed what is known as helicoptering - flapping her wings really hard so her feet lifted a few inches off the ledge. Lily and Ossie frequently came to visit and fed their chick three times, including a large meal around 20:00. One of the meals was a mouse! Clearly Ancaster is well taken care of and, as the picture taken at 13:09 shows, developing quickly.

A NICE SUMMER DAY

Saturday, June 4, 2016, 21:00 - Coordinator Hilary Rathbone reports: Ancaster had a nice and relaxing summer Saturday. During the morning she flapped her wings, and hopped up onto the ledge a few times. Later, she napped with one, and sometimes both of her parents, for a significant part of the afternoon. Both adults periodically left the nest to go hunting, and around 12:30 fed their chick. In the early evening, Ancaster woke up and began to wander and stretch on her ledge. It looks like she enjoyed today, hopefully just like the rest of us!

The images at left show Falconwatch's Jackson Square display window, which is at the back of the Food Court near the mall entrance to the Hamilton Public Library. In the left hand picture, the large screen shows the current Home webpage and a selection of Favorite photos from this year, while the right hand screen shows the current images from both TV cameras. Seen at right are the display easels which show both historical Falconwatch pictures and images from this year, along with text telling visitors what has been happening this year. If you are downtown be sure to visit the window.

FALCONWATCH 2016 STARTS TODAY - MEET OUR COORDINATORS!!!

Saturday, June 4, 2016, 09:00 - Falconwatch 2016 gets fully underway at 0900 today, June 4, when one of our Coordinators begins observing at the main monitoring site, the parking area on the Sheraton Hotel side of the brand new McMaster University David Braley Downtown Health Centre at the corner of King and Bay Streets. This year we will have two Coordinators sharing the duties on alternate days. We are very pleased to introduce and welcome Hilary Rathbone and Corin Schneider.

Hilary Rathbone is a 4th year Anthropology/Archaeology student at McMaster University. She comes with many experiences of working with students, doctors and professional teams at McMaster. Hilary is a competitive Highland Dancer and a proud born and raised Hamiltonian.

Corin Schneider is studying environmental engineering at the University of Guelph. He comes with both work and volunteer experience, having worked with the Canadian Wildlife Service on a Prairie Warbler Study and as a Mill Creek Environmental Stewardship Ranger with the Grand River Conservation Authority. When Corin isn't out in nature or studying you can find him on the soccer field.

Not to be forgotten is the star of our show. Ancaster's dark feathers have been coming in rapidly, replacing the white down we were used to. This picture was taken at 06:34 this morning, just after she was fed a(nother)good sized meal. Stay tuned!

FALCONWATCH VOLUNTEERS NEEDED

Friday, June 3, 2016 - The on-street part of Falconwatch 2016 will get started tomorrow, Saturday, when our Coordinators start their 9AM to 9PM shifts. Next Wednesday, June 8, Falconwatch volunteers will take to the streets, starting with the 5AM to 7AM shift.

The image at left, taken Wednesday at 10:58, shows the golden brown colour in Ancaster's facial area. This colour, typical of juvenile Peregrines' face and chest areas, lasts until their first full feather moult. Stay Tuned!

FLIGHT FEATHERS GROWING IN

Tuesday, May 31, 2016 - in the image at left, taken last evening at 20:00, Ancaster's dark flight feathers continue to grow in. Within three weeks almost all the white feathers will be replaced. Stay Tuned!

JUST A GROWING GIRL!

Friday, May 27, 2016 - Around 06:45 today Lily brought in a huge meal and started to feed Ancaster. If there were any after effects from Wednesday's adventure, they sure aren't showing today. As can be seen in the image at left, Ancaster ate heartily. Another sign of growth is visible too - more of her dark flight feathers are showing. Stay tuned!

Be sure to see the LIVE STREAMING notice in red above! Webmaster Charles has taken us one step further in bringing the Sheraton Peregrines to you.

HAMILTON, MEET ANCASTER!!

Wednesday, May 25, 2016; 17:00 - There wasn't much doubt that our chick was a female. Weighing in at 953 grams, the Hamilton Community Peregrine Project's newest falcon is "Ancaster". In keeping with our practice of giving our birds names with an historical link to Hamilton or to Falconwatch itself, Ancaster was chosen because it was first settled in 1792, approximately 15 years before Dundas and 25 years before Hamilton, both of which names have already been given to Hamilton Peregrines. In the picture at far left, Ancaster is shown just before the climber descended. At near left, climber Chris Phinney scoops Ancaster up into the special carrying bag.

In the picture at far left, Ancaster is shown after her adventure. The red band on her right leg will help in identifying Ancaster when flying in the downtown area. At near left, Lily seems to be asking when the climbers will finish!

HELLO WORLD - COMPANY COMING!

Wednesday, May 25, 2016; 08:00 - In the picture at left, taken Saturday at 14:05, with Lily close by the chick is getting one of its first looks at the world outside the nest ledge. It won't be long before it doesn't have to stretch its neck to see.

Around 10:30 TODAY, Wednesday, May 25, the chick is going to get a visitor and go for a little trip. About an hour later, after being weighed, gendered, banded and named, it will be returned to the nest ledge. Lily and Ossie will make their displeasure known, and both will be right there to check on the little one as soon as the climber clears the nest ledge after the return trip. It may be necessary to turn one of the cameras away for a while to allow the climber to get back to the lower Sheraton roof, but the second camera will be watching throughout the operation. We will update the webpage with the youngster's name and details as soon as possible. If you are downtown you can catch all the action at our display window at the back of the Jackson Square food court near the Hamilton Public Library entrance.

WELL FED!!!

Wednesday, May 18, 2016 - NO, the chick isn't having a problem. The large bump in its throat area means that it has just been fed. Most birds have a pouch, called a "crop", just below the beak. The crop is used to store food received from a parent to give the bird, our chick in this case, time to properly swallow and digest the meal. As can be seen from its size, our youngster has been well fed. The picture was taken at 18:00 yesterday. For another sign of growth, look at those feet!! Stay tuned!

GETTING BIGGER!!! - BANDING MAY 25

Saturday, May 14, 2016 - Our chick is getting bigger, as can be seen in the image at left taken yesterday at 12:26. One feature of a young Peregrine - its blue beak - is now visible too. In three short weeks the chick will be more or less fully grown. Stay tuned!

In a joint operation carried out by the Hamilton Community Peregrine Project (Falconwatch), the Canadian Peregrine Foundation and the Ontario Ministry of Natural Resources and Forestry, our young Peregrine will be banded on Wednesday, May 25 at 11:00. As always, the outdoor activity will be viewable through our webcams.

WHAT'S HAPPENING AT THE NEST?

Wednesday, May 11, 2016 - What's happening at the nest? In a nutshell, we're not sure. Two eggs were visible at 05:47 this morning, and a single egg can be seen in the image at left, taken at 07:24 today. While Lily has been preening and feeding the chick often – twice before 07:30 today – she does not seem to be incubating the eggs. We will have to wait a few more days to be sure, but it looks as though we will only have one chick this year. Stay tuned!

MOM, YOU'RE SQUISHING ME!!!

Monday, May 9, 2016 - In this image, taken at 11:04 yesterday, the chick seems to be telling Lily that she needs some room while she waits for another egg to hatch. Because we don't know exactly when the unhatched eggs were laid we cannot tell when they will hatch, if at all. Even though Lily hardly ever left the nest in the early weeks after the first egg was laid, the cold weather early in April may have had an effect. Only time will tell. Stay tuned!

PEEK-A-BOO! I SEE YOU!!!

Friday, May 6, 2016 - This image, taken at 08:24 this morning, shows the chick neatly tucked under Lily's wing. It appears that Lily may have decided that the egg in the left foreground, which has a large crack, is no longer viable. The other two eggs, which look quite healthy, are under her on the opposite side to the chick. Stay tuned!

LOOKING AFTER THINGS!!!!

Thursday, May 5, 2016 - In the image at left, captured at 07:51 today the chick appears to be doing a little incubating of the three remaining eggs while Lily and Ossie are taking a break. Stay tuned!

MAKE IT FOUR!!!!

Tuesday, May 3, 2016, 11:05 - The image at left, captured at 10:46 TODAY, shows clearly the head of the chick and three eggs!!! Will there be more? Stay tuned!

ASK AND YOU SHALL RECEIVE - THIRD EGG!!!!

Tuesday, May 3, 2016, 07:50 - The image at left, captured at 18:38 yesterday, clearly shows a portion of an egg just right of the chick's head, and a second egg further out in the scrape. Things are happening - stay tuned!

SECOND EGG FOR SURE!!!!

Monday, May 2, 2016 - As can be seen in this image, captured at 13:31 today, while Ossie was taking a turn feeding the chick a second egg was clearly visible to the right of the little one's head. There has been lots of feeding and some fussing since, so keep an eye out for a second chick!

MOTHER'S DAY COMES EARLY!!!!

Saturday, April 30 , 2016 - At 10:08 and again at 14:04 today Falconwatchers could clearly see the beak of a Peregrine chick being fed by Lily. The chick's pure white feathers are nice and fluffy, which is to say dry, meaning that it is 12 to 24 hours old and likely hatched on Friday. Stay tuned for a second beak - we hope!

HEADS UP!!!!

Thursday, April 28 , 2016 - On average over the last 11 years, it has taken 37-38 days for the first Peregrine egg to hatch in the Sheraton Hamilton nest. If the first egg this year was laid on March 20 then we passed that mark yesterday and should be keeping a close eye on the ledge for signs that an egg has hatched. Things to watch for: Lily seems to be moving around a lot; an adult is bringing food to the nest; Lily can be seen in a feeding posture; a small amount of white fluff appears at the edge of the ledge. Stay tuned!!!

PATIENCE IS A VIRTUE!!!

Wednesday, April 20, 2016 – The Sheraton Hamilton Peregrine nest mystery – How many eggs? – continues to keep Falconwatchers wondering as the incubation period drags on, which it always does. Based on the date we think the first egg appeared, a chick should hatch around April 25-30, though it's hard to say for sure. Lily and Ossie are paying close attention to keeping the egg(s) warm - 'shift changes' on the egg(s) are very quick, taking 10 to 30 seconds at most. Ossie is doing his full share of incubation.

Because the ledge parapet is in the way, hatching may not be directly visible on camera. We will be able to infer that it has happened, however, when Lily starts fussing or the adults bring food to the scrape. If chicks don't occasionally poke their heads out, it will be only a matter of weeks before they start wandering up and down inside the ledge. Stay tuned!!

A DEDICATED LILY WEATHERS THE STORM.

Monday, April 4, 2016 - It is not often that we see a major snowfall after our Hamilton Pegrines have laid their eggs, but our dedicated mom-to-be stayed at her post, and kept her precious eggs warm and dry throughout the long, snowy night. This morning we can just barely see her, peeking around the accumulated snow on the parapet, as if saying, "I'm a little soggy on top, but I'm fine." Before the advent of modern synthetics, people used to line their winter coats with goose feathers, because feathers are such an amazing insulator. The fact that for most of the night the snow was laying on top of Lily, without melting, shows how little of her body heat was escaping through those feathers. We may feel a little sorry for Lily, but for falcons this is part of their natural world, for which they are very well adapted!

IF YOU LOOK CAREFULLY.....

Friday, March 25, 2016 - Our first official glimpse of an egg. A small sliver of one just barely visible past the parapet edge. Only the characteristic red-brown and distinct curve distinguish it from the grey rocks of the scrape. By this point Lily and Ossie have had sufficient time to have laid at least two more eggs, which may explain why one is beginning to push into view. Peregrines typically lay two to four eggs. It will continue to be a guessing game as to how many we have, right up until the time of hatching (which will also be a bit of a guessing game of its own, as we watch for the adults fussing about).

YES? NO? MAYBE!!!

Tuesday, March 22, 2016 - It now seems fairly certain that Lily laid her first egg sometime around 3:30 pm on Sunday, March 20. We can't know for sure because she has once again chosen a location for her nest "scrape" at the near end of the ledge, putting any possible eggs just out of sight behind the parapet wall. Our first clue that an egg may have been laid was when Ossie brought Lily a meal at 3:39 on Sunday (picture at left) and she did not hop out of the scrape to claim it. This was followed over the next few days by a very distinct pattern of Lily and Ossie taking turns sitting in that corner.

As is usual for the first egg of a Peregrine clutch, there have been brief periods when both birds have been out of the scrape. This cools the egg slightly, slowing its development, so that there is a better chance of all the eggs hatching close to the same time (slightly more than a month from now). So it appears that April of this year will be the same as last year, with everyone hoping to catch a glimpse of the eggs when they are turned, and everyone playing the guessing game as to how many there may actually be. Fortunately, chicks tend to move around, and so shortly after hatching we will be treated to some excellent views. In the meantime, Ossie has been very good about bringing food to Lily. We have the camera zoomed in as far as possible in hopes of seeing a glimpse of large brown oval. Stay tuned!!!

UNWELCOME VISITOR?

Wednesday, February 17, 2016 - A falconwatcher working in the downtown area reports: "I heard a lot of squawking outside my office (window) at about 1:00. I saw two falcons diving at each other. At first I thought our pair was playing but noticed that a falcon was still perched on the Sheraton Hotel." After this event, two adults were seen "keeping guard" on the Sheraton ledges on and off throughout the afternoon. We had a close up look with our camera to verify Lily's bands again. We will continue to presume the other bird is still Ossie unless we see evidence to the contrary.

CHECKING IN......

Saturday, January 23, 2016 - Hamilton's new resident adult pair, Lily and Ossie have stayed in the Hamilton downtown core over the winter, and occasionally drop by the nest ledge..... Today we got a close-up look to verify Lily's bands.

BACKGROUND FOR 2016....

In early 2015, first the resident male, Surge, and then the resident female, Madame X, were replaced by two new, younger adult birds, Ossie and Lily. Surge had been found injured in January, and later died from those injuries while being cared for at the Owl Foundation. Madame X simply disappeared in March, with some speculation that she had been driven off by Lily in a territorial battle.

Lily was banded in 2010 at the Grand Haven Board of Light & Power plant, in Michigan, and Ossie fledged from the Osler Hospital in Etobicoke in 2012.

The new pair produced three eggs in April, two of which hatched. The two chicks, both female, were named Barton and McMaster, and fledged successfully later that summer.

Many birds exhibit a trait called 'site fidelity'. If at least one of a pair that used a nest site in the previous year return, and if there have been no significant physical changes to disturb either the nest itself or the birds generally, they will use the same nest site over and over again, year after year. Peregrine Falcons are known for site fidelity. Apparently in the case of Ossie and Lily, there had been enough time between Ossie's arrival and Lily's for Madame X to "introduce" Ossie to the preferred nesting spot on the Sheraton, which Ossie then showed to Lily. This will be the twenty-second year the same nest site on the Sheraton Hamilton Hotel has been used.

To read FalconWatch Reports from previous years, click on the History button above.

Thank you to all our visitors and supporters for your ongoing encouragement.

Web page created by Charles Gregory
Web Pages and All Contents (C) Copyright - Hamilton Community Peregrine Project