2001 Banding
Banding was done Monday, May 28 at 11am. The adult falcons were not pleased to see us.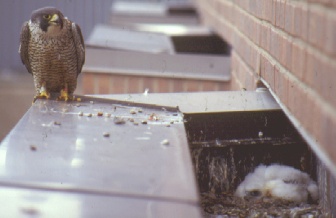 A closeup of Madame X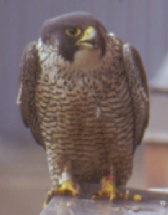 To retrieve the chicks and bring them to a safe place for banding our volunteer, John Millar, climbed down from the roof of the Sheraton using rock-climbing gear.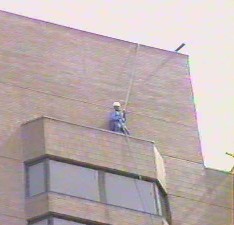 The adults were not happy about this either.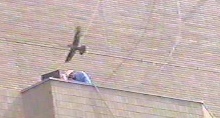 OB passes close to the ledge.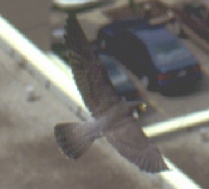 The chicks were placed in a box and raised from the nest ledge.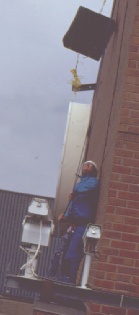 They were then brought into a suite in the Sheraton for the actual banding.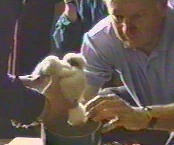 Anne Yagi reads Sal's weight for Bander Bruce Duncan.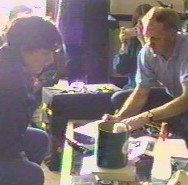 What am I doing here? Who are you guys, anyway?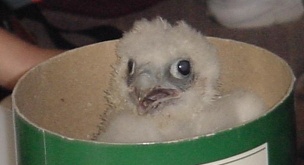 Checking leg diameter to determine the proper band size.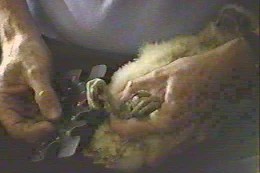 The aluminum band (with Canadian Wildlife Service/US Fish & Wildlife Service ID number) goes on.



Still not a happy camper.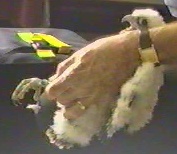 Anne rivets the separate plastic ID band Bruce has placed on Sal's other leg.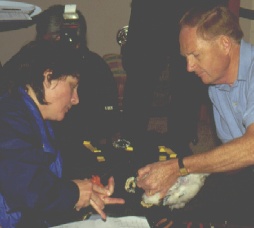 Hal gets weighed.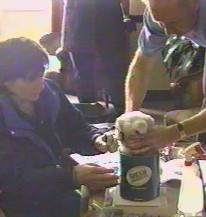 Or not!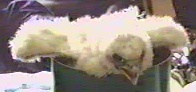 Still not.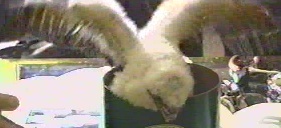 Friendly persuasion.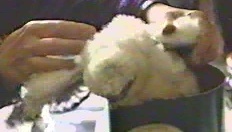 Hal close-up 1.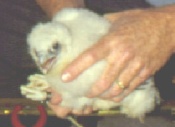 Hal close-up 2.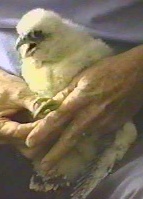 Hal close-up 3.



Sheraton Hotel Manager Keval Khanna holds Sal for the camera.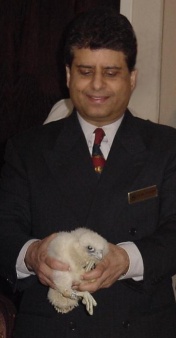 Click the following image to enlarge it.
Bruce Duncan prepares to place the aluminum band on Hal's leg.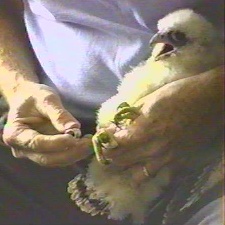 HCPP Lead Monitor Audrey Gamble holds Hal for the camera (click to view full size).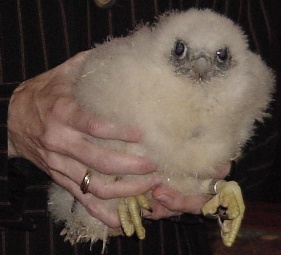 Photos captured from video recorded by Mike Street, and additional still photography by Glenn Barrett and Peter Burgess, with our thanks.