Hamilton Community Peregrine Project - Site Gallery
Click on any photo for a larger image. Your browser must be JavaScript enabled to view enlargements.
Since 1995 Peregrine Falcons have been nesting on the south face of the Sheraton Hamilton Hotel high above King St. West, one of the busiest streets in downtown Hamilton.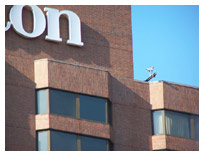 The "scrape" is in the ledge directly below the "n", and a camera (mounted to the right) follows the acitivities of the falcons.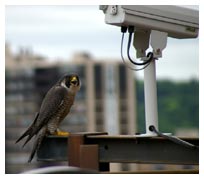 Madame X on the beam supporting the camera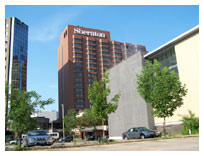 A view of the Sheraton and the Standard Life building (left) from the Board of Education parking area, where volunteers gather to keep watch over the fledging falcons.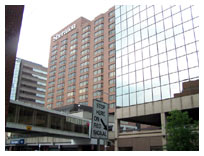 View of the Sheraton from the east, with the Standard Life building in the background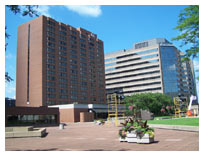 A view of the Sheraton (left) and the Standard Life building (right) from the north east corner of Copps Plaza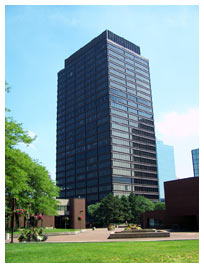 The Stelco Tower as seen from Copps Plaza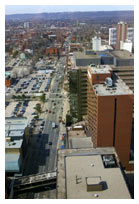 Looking down along King Street West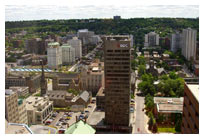 Looking south towards the escarpment. The sign on the BDC building is another perch favoured by the adult peregrines.
Photos: Lyle Camier, Dagmar Rudzewitsch & Ryan Laird Iverson