Hamilton Community Peregrine Project - Banding Day June 05, 2007
Click on any photo to view it full size.
While Jump Up - who this day earns her name by hopping up on a ledge - is left behind at the nest site, Blue Foot is brought inside. Here she is weighed and banded. (Note the blue feet.) A cooling spray of water has a calming effect on the little falcon.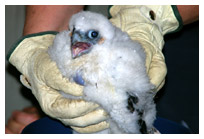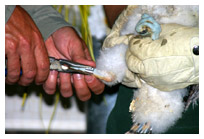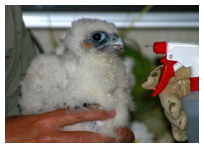 Once Jump Up hops back into the nest, the climber begins his precarious descent, coming down on one corner of the nest ledge. A swimming pool net effectively blocks the other corner. As always, Madame X is in attendance.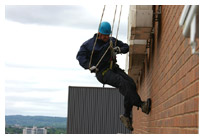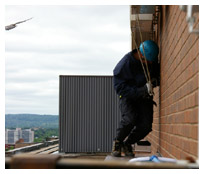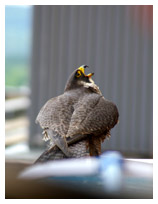 Jump Up weighs in at a healthy 946 grams. (Note the large yellow talons.) Banding is followed by a photo opportunity.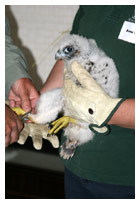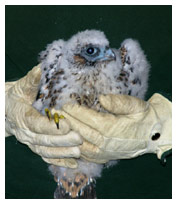 Photos: Dagmar Rudzewitsch, HCPP & Ryan Laird Iverson, Sheraton Hamilton Hotel